Switzerland wins the first leg in Mannheim
The first leg of the Longines EEF Nations Cup Series 2022 was held today at the MVV- Reitstadion in Mannheim and saw a final round filled with excitement. In the end, there was a jump-off between the hosts from Germany and the Swiss team to decide the winner of the first leg of this series launched by the European Equestrian Federation.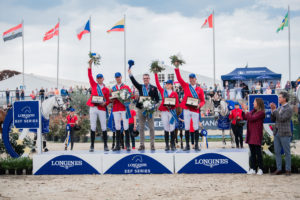 It was Alain Jufer riding Dante MM who gave Switzerland a win as he finished with a clear round stopping the clock at 41.03 seconds in his third and decisive round, beating the youngest rider on the German Team, 24-year-old Sophie Hinners, who also rode a perfect clear following her previous two, but stopped the clock at 42,01 riding her stallion Million Dollar. The Nations Cup podium was completed by Sweden on 10 faults.

Switzerland and Germany had both finished the first two rounds of the Nations Cup in 4 faults in a class with ten teams competing (Austria, Croatia, Germany, Liechtenstein, The Netherlands, The Czech Republic, Slovenia, Slovak, Switzerland and Hungary).
The Swiss team fielded Elin Ott/Nanu II (0/0), Niklaus Schurtenberger/Quincassi (4/0), Edwin Smits/Best Of Berlin BS (0/4) and Alain Jufer/Dante MM (0/0/0); Chef d'Equipe Beat von Ballmoos.

Germany had Kendra Claricia Brinkop/Narcos v. Smidshoeve (4/4), Patrick Stühlmeyer/Carmina (0/0), Sophie Hinners/Million Dollar (0/0/0) and Andre Thieme/Conacco (0/4); Chef d'Equipe Marcus Döring.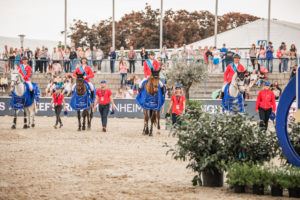 It was top-level riding that was the highlight of this class that marked the debut of this year's series. The teams competed over two rounds and a jump off over excellent courses built by German Chef de Piste Christa Jung. The first course consisted of 12 jumps and 15 efforts with technical problems posed fairly all over the course with no traps at all. The courses allowed good forward riding permitting the horses to gain confidence. This allowed new horse and rider combinations to gain experience over a course with all the characteristics of the highest level, posing technical questions and delicate jumps, finishing having jumped well from the first to the last jump, leaving riders and horses with a positive impression and a constructive experience as proved by the 30 clear rounds over the first two rounds. Among them there were only four with double clears, from 23-year-old Swiss rider Elin Ott riding Nanu II, from Germany's Patrick Stühlmeyer riding Carmina and Sophie Hinners with Million Dollar, and from Colombia's Santiago Diaz Ortega riding Chasandro Boy.

Unlike last year, crowds, at last, filled the stands at the MVV- Reitstadion in Mannheim. There were about 7,500 spectators providing the wonderful atmosphere and excitement that has always been an important part of our sport.

Swiss Chef d'Equipe Beat von Ballmoos "Its an absolutely amazing day for us, the Longines EEF series is very important for us because we have the opportunity to give some more riders a chance to ride Nations Cups, and for me, it was a special day as this was my first Nations Cup as ac hef d'equipe" [NB Michel Sorg was present in La Baule]

Sophie Hinners, Germany "This is the first Nation Cup for Million Dollar, so I was really nervous but I'm super happy about how he jumped, and it all went extremely well."

Edwin Smits, Switzerland "The course was really well built, really well thought with nothing against the horses. It was good to ride, technical and selective but absolutely fair, so even some of the less experienced participants they could jump this class without issues".

Starting list and result on Longines Timing – CLICK HERE
https://www.longinestiming.com/equestrian/2022/longines-eef-nations-cup-mannheim-mannheim
PHOTOS: Yadel Möhler Photography