Longines EEF Series Mannheim
This years edition of the Longines EEF Series (LES) starts in Germany. It will be the CSIO3* in Mannheim (May 6-10) that will host the first leg of the competition series launched by the European Equestrian Federation (EEF) and that this year presents a complete calendar, providing young talents and combinations from emerging nations a chance to gain experience and technically improve at top-level events.
Launched in 2020, but then postponed due to the pandemic, last year the Longines EEF Series had a reduced calendar because of health restrictions. The Series returns with a complete offering of 8 regional qualifiers, 2 semi-finals, and the Final this year.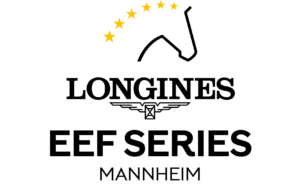 The first regional qualifier will start at 13.00 on May 8th at the MVV- Reitstadion in Mannheim. The teams competing for points are Austria, Germany, the Czech Republic, Hungary, Slovenia, Slovakia, and Switzerland who will combine their results from this weekend with their second qualifier in Bratislava (19-22 May) to put the top 5 central-regional teams into the semi-finals.
The chef de piste appointed for the CSIO3* and the Nations Cup is Germany's Christa Jung. The class will be available to watch live on the EEF website thanks to a partnership with Clip My Horse. The watch live link is available here.
Theo Ploegmakers, President of the EEF
"We are delighted to get our season underway this week in Mannheim. The Longines EEF Series is a unique competition designed to build the strength of the national teams and proactively encourage nations to include their younger talents.
Gaining selection to represent your country in a Nations Cup team is a huge moment for any rider, and I wish all the combinations the very best of luck. I want to thank the Organisers and all those who have dedicated their time, commitment, and support to the successful running of the series and wish you all a successful start to the Longines EEF Series"
—————————————————————————————————————————-
About:
The Mannheim CSIO3*
Thanks to the Longines EEF Series the show in Mannheim will be Germany's second CSIO alongside Aachen's. Mannheim has already however hosted events of this level, as in 2015, when the MVV-Reitstadion produced an important edition with the show jumping Nations Cup, Germany's 100th, instead of Aachen which that year hosted the European Championships.
The Mannheim CSIO3* is also one of the key events hosted at the Maimarkt-Turnier and in 2022 presents its 58th edition, with ten days of equestrian sport (April 29th – May 10th) that also includes a CSIV-B (a show for Veterans), a 4* international dressage event (CDI4*) as well as a para-dressage competition (CPEDI3*).